Carollo Welcomes Ben Armel as Operations Lead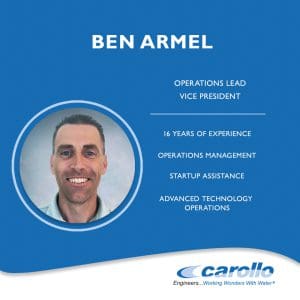 Ben has more than 16 years of experience executing and leading municipal water and wastewater operations, including operations management at the Metropolitan Water District and Jurupa Community Services District. While working for the Jurupa Community Services District, Ben supported Carollo on the South Adams Pellet Softening project as a design and plant startup consultant. From installation, repair, and maintenance of service lines, pipelines, and meters to the operation of multiple surface water treatment plants up to 220 mgd, Ben has a wealth of experience supporting processes and infrastructure at every level.
Ben's hands-on knowledge will benefit Carollo's clients as he works collaboratively with them to lead process startup, commissioning, testing plans, and more.
Welcome, Ben!