Suspended Ion Exchange (SIX) Pilot Project, David L. Tippin Water Treatment Facility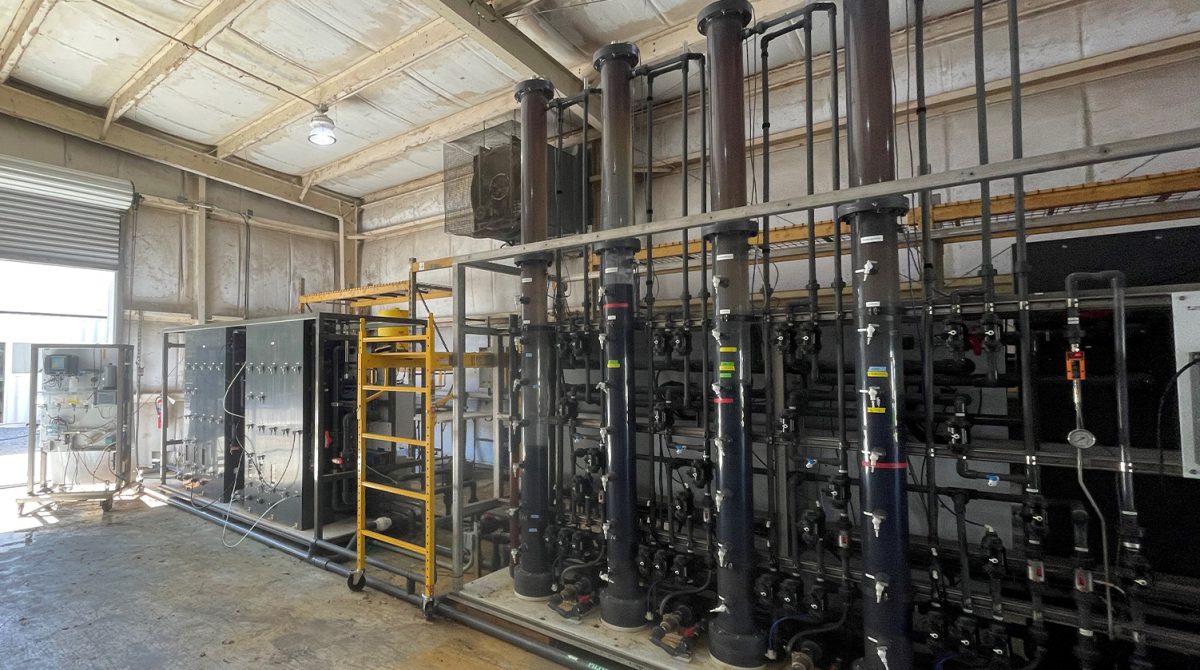 Project Overview
The first project in the U.S. to employ the non-proprietary SIX process for enhanced organics removal
Tackling Organics in Source Water with Innovation
The City of Tampa's David L. Tippin Water Treatment Facility (DLTWTF) produces an average of 76.7 million gallons of potable water per day (mgd) to serve over 717,000 residents and visitors. In recent years, this plant has experienced operational challenges caused by variable water quality from the Hillsborough River, the City and their communities' primary water source.
The river's water is regularly affected by high levels of organics that demand a wide range of chemical requirements to treat and also shorten the life spans of City assets that must contend with aggressive water quality.
Today, the river's surface water hosts algae and other unwanted organic material, including total organic carbon (TOC) levels that, depending on the season, can climb up to 37 milligrams per liter (mg/L). TOC not only causes unattractive color in finished water but also reacts with disinfection chemicals to produce disinfection byproducts (DBPs), which are strictly regulated carcinogens, and results in a chloramine residual that's difficult to maintain throughout the water distribution system.
As part of their master-planning efforts, the City contracted Carollo to explore cost-effective alternatives that improve the DLTWTF's long-term reliability and flexibility in meeting the City's goals for finished water quality, regardless of high seasonal variabilities in their source water. Together, Carollo and the City decided that, to consistently decrease finished water TOC to below 2 mg/L without exorbitantly increasing operations and chemical costs, the DLTWTF would require an expanded, fully optimized treatment train.
Carollo recommended the exploration of suspended ion exchange (SIX®), a Netherland-born, non-proprietary advanced water treatment technology that specializes in high-efficiency organics removal. A subsequent literature review of this technology indicated its potential to robustly meet the DLTWTF's needs and objectives, the benefits of which could be quantified through pilot testing.
The City of Tampa's SIX Pilot Plant
Thus, Carollo, alongside Ramboll, PWNT Technologies, Garney Construction, and Wharton Smith, Inc., joined the Tippin Water Team (TWT) to design and operate a 30-gallons-per-minute (gpm) pilot plant utilizing pre-treatment SIX alongside coagulation/flocculation/sedimentation, ozone, and biofiltration skids. This project marks the first full-scale test of this state-of-the-art technology in the United States.
Throughout the 10-month study, TWT evaluated the SIX system's ability to remove organics and other anions from raw water and its effects on the DLWTF's downstream operations, water quality, and process performance. Since this European system was adjusted and sized for a U.S. plant, TWT also made careful operational pivots to ensure that it met the City's standards and remained accessible to plant staff.
SIX and coagulation were soon determined to complement each other in improving the DLWTF's overall treatment outcomes. SIX's non-proprietary anionic exchange resin adsorbed bicarbonate ions to reduce raw water alkalinity, which, in turn, lowered the coagulation pH and improved organics removal. Farther downstream, the addition of SIX and the corresponding coagulation lowered the ozone dose by 27 percent and, thanks to the lower headloss accumulation, doubled unit filter run volumes (UFRVs) and allowed filter loading rates of up to 8 gpm per square foot. This last result was secured by optimizing the existing filters and building new filters with an enhanced media configuration and higher allowable headloss.
With these various enhancements, the pilot plant achieved the following feats:
Improved finished water quality, resulting in an average finished water TOC of 1.4 mg/L compared to the current full-scale average of 2.0 mg/L.
Enhanced water taste, smell, and color.
Reduced demand for coagulant and other chemicals (e.g., polymer, caustic acid, lime) and the complete removal of pH-depressing acids from the treatment train, translating to chemical cost savings of up to $1.6 million per year.
Solids production that is 37 percent less than the current baseline.
The Future with SIX
With the pilot study complete, TWT is now using lessons learned and data collected to prepare the preliminary design for a full-scale SIX system to serve the DLWTF. This improved treatment process will allow the City to cost-effectively meet their communities' long-term needs with a safe, sustainable supply of water that's responsive to changing water quality.
SIX is a registered trademark of N.V. PWN Waterleidingbedrijf.
A 10-month-long, $1.9-million SIX pilot project, the first of its kind in the U.S.
$1.6 million in annual savings from reduced operating costs in the treatment process
Single-pass, plug-flow-type anionic ion exchange process using non-proprietary, regenerating resin to capture organics
Improved water quality, taste, smell, and appearance alongside reduced disinfection byproduct formation and enhanced disinfection stability
Have an upcoming project? Let's make it a success.