City of Sacramento Accelerated Water Meter Program (AWMP)
Client
City of Sacramento, Department of Utilities
Location
Sacramento, California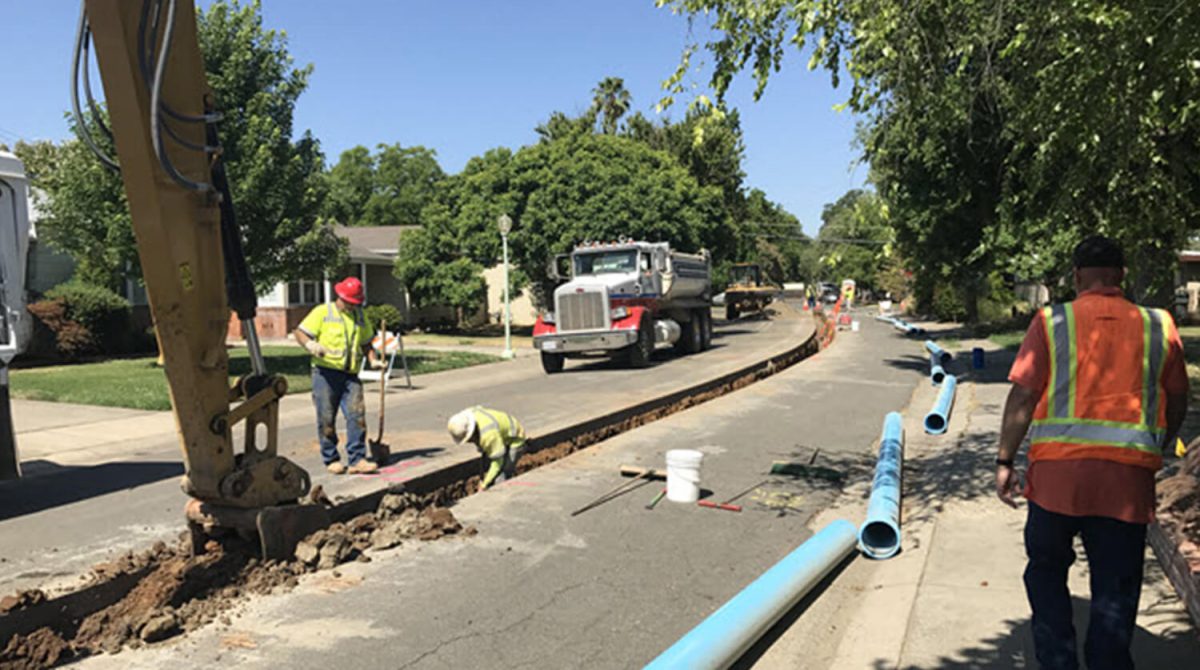 Project Overview
Fast-tracking Sacramento's largest city-wide utility capital program
For the past several years, California has endured prolonged and severe drought conditions, which have demanded the State Water Resources Control Board to adopt emergency water regulations. To support the State Water Board's efforts, in 2015, the governor also issued executive order B-29-15, a mandate to reduce statewide water usage by 25 percent.
One effective method to meet this mandate is to follow through on the requirements of Assembly Bill 2572, a state law enacted in 2004 that requires all water suppliers to install meters on all customer water connections by January 1, 2025. Water-metering is a common and well-established practice that has helped some California communities reduce their water demand by as much as 20 percent.
Thus, in 2015, the City of Sacramento decided to fast-track their meter installations with a $245-million Accelerated Water Meter Program (AWMP), an effort that installs new water service meters and inspects and replaces leaking ones on connections throughout their service area. This program's duration was accelerated from eight years to five years so that its various actions may better address near-term drought conditions while facilitating the equitable application of consumption-based pricing across all customers.
Carollo was selected to provide the AWMP's comprehensive program management services, coordinating and tracking the installation of 40,000 water meters and 60 miles of water mains through planning, design, construction, and integration with the City's geographic information system (GIS), computerized maintenance management system (CMMS), and billing systems. Where possible, water mains were scheduled for replacement in parallel with meter installations to minimize public disruption, improve the City's level of service, and slash long-term rehabilitation and replacement costs.
Carollo's most notable program activities include the following:
Support the preparation and submittal of the state revolving fund (SRF) application.
Administer a multi-faceted outreach effort to build public support for the program, proactively address customer concerns, and communicate program activities to businesses and residents who may be affected by construction work.
Explore and facilitate the selection of alternative project delivery options that prioritize quality, schedule, and cost while mitigating risk.
Implement rigorous project controls to monitor the program's progress and performance against key metrics.
The AWMP is currently projected to be completed $18 million under budget. Earlier cost efficiencies allowed the City to address additional critical infrastructure needs related to the meter installation and still conclude the program four years ahead of the state-mandated deadline. Additionally, the proactive public outreach and consistent communication have kept the program's number of public complaints to a minimum, a mark that's often missed by construction activities of similar scale and purpose.
A $250-million program accelerated from 8 years to 5 years.
Expedited procurement and construction of 40,000 water meters and 60 miles in distribution mains.
Integrated planning, design, construction, and asset management for multiple, concurrent projects.
A web-based program controls system to monitor and report performance metrics to stakeholders.
Diligent public outreach and engagement that garnered community support and minimized construction complaints.
Have an upcoming project? Let's make it a success.